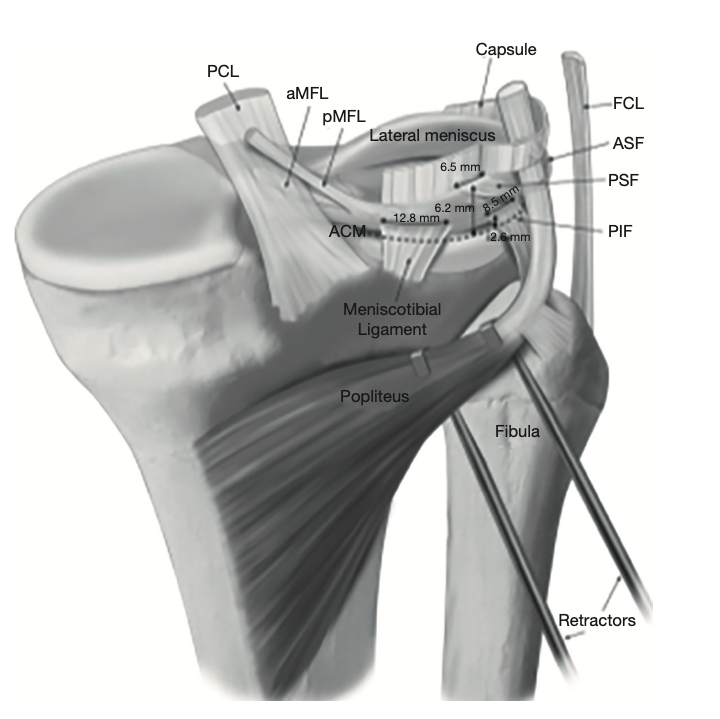 The hypermobile and unstable lateral meniscus: a narrative review of the anatomy, biomechanics, diagnosis and treatment options
25/08/2021
Beel W, Macchiarola L, Mouton C, Laver L, Seil R. The hypermobile and unstable lateral meniscus: a narrative review of the anatomy, biomechanics, diagnosis and treatment options. Ann Joint 2021.
https://dx.doi.org/10.21037/aoj-21-9
Objective: The purpose of this review is to improve the awareness of lateral meniscal hypermobility by describing its relevant anatomy, biomechanics, pathophysiology, imaging and arthroscopic findings as well as the treatment options.
Background: The lateral meniscus is less stable than the medial meniscus. Its important posterior stabilizers are the popliteomeniscal fascicles, the posterior capsule, the meniscofemoral ligaments and the posterior meniscotibial ligament, which are divided by a bare area, the popliteal hiatus. Atraumatic insufficiency or rupture of one of these key structures may impact the mobility of the lateral meniscus and can lead to an unstable, hypermobile lateral meniscus. Lateral meniscus hypermobility can cause lateral knee pain and mechanical symptoms as locking. Ruptures of the popliteomeniscal fascicles are frequently associated with anterior cruciate ligament and posterolateral corner injuries. Their repair may be important to fully restore knee stability.
Methods: This is a narrative overview of the literature synthesizing current knowledge about the hypermobile lateral meniscus. Anatomy, biomechanics, diagnosis and treatment of this entity was of particular interest for this review. Literature was retrieved from PubMed database, hand searches and cross-reference checking.
Conclusions: Diagnosing lateral meniscus hypermobility is challenging since the magnetic resonance imaging are often unspecific and may show no structural alterations of the meniscus and its attachments. The only hint can be the patient's history and clinical symptoms (e.g., locking). Ultimately, the diagnosis is confirmed during knee arthroscopy, when the lateral meniscus can be mobilized over 50% of the lateral tibial plateau or lateral femoral condyle while anterior probing or by using the aspiration function during arthroscopy. Treatment includes stabilizing the posterior lateral meniscus by repairing the injured structures. Therefore, a systematic arthroscopic evaluation of the lateral compartment is important to fully recognize the problem. Repair can be achieved arthroscopically with various suturing techniques used for meniscal repair with satisfactory results and low recurrence rates.